All right, I didn't get back with a craft update yesterday as planned. And I'm not sure if I'll have one today either. I'm so busy doing all the crafts, I haven't had a chance to post about them! ACK!
I do want to share some blog hop love though-- just in case y'all find the time to grab a peppermint-bark-&-hot-chocolate moment.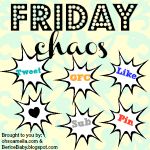 Aloha Affair
And a special edition of Financial Friday...